On Sunday 20th January 2019  Jodie headed to London to visit the London Art Fair, find out what she uncoverd on her trip.
Jodie stayed in an Air Bnb on Kings road in Chelsea and her host recommended the Saatchi gallery on route to the art fair.The Saatchi held an event called Black Mirror, an exhibition exposing anxieties and our modern-day obsessions in today's society, created by 26 contemporary artists. Steve Bishop showed a taxidermy goat with its head inserted into a concrete bottle inspired by a Christian Dior J'Adore perfume bottle.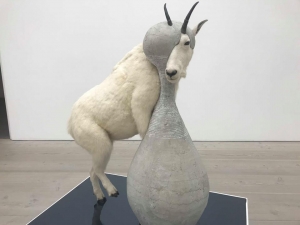 For £21 entrance fee the London art fair welcomed us into their doors and with 4 hours until it closed she wishes she had planned more time, as this exhibition was ginormous . Popular art trends throughout the fair were taxidermy, balloon sculptures and repetition of object's. We took a particular liking to a balloon sculpted dog taking a number two. This sculptor was humorous ,entertaining and creative. The elegant collection of taxidermy exotic birds included a flamingo, peacock, and  parrot which grabbed  our attention.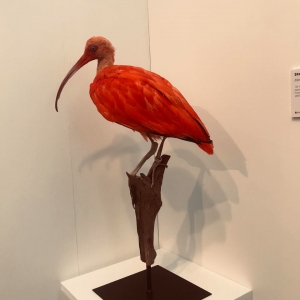 Whilst on the trip Jodie visited Oxford Street, she was attracted to the large art installations within Selfridges window. The store had incorporated an open studio space in the corner of the window for everyone to see. Studio Morrison had taken over and created art pieces live for the public to view.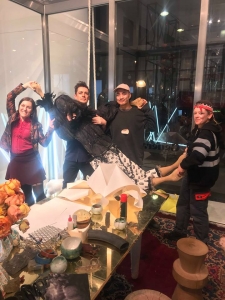 As Jodie was going to leave the studio, Ivan, one of the creators, gave her a very professional yet hilarious card, She responded to Ivan saying that this card will not be thrown away. What do you think is on the cover  of the card?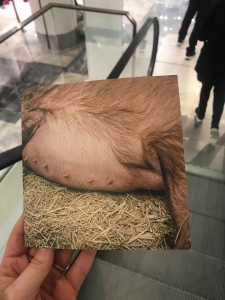 Jodie  then wandered around the rest of the Selfridges when she noticed a large mass of people queuing within Louis Vuitton, to view what can only be described as a giant rainbow  human statue created by Virgil Abloh. He  is currently the artistic director at Louis Vuitton, a worldwide Dj and the CEO of OFF-White a fashion house he founded in 2013.WOW what a man !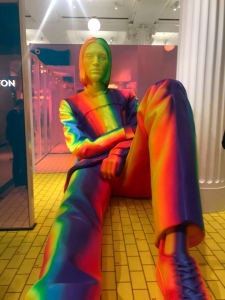 As Jodie  headed upstairs to grab a coffee  in the Basserie Of Light. She sat under a giant crystal encrusted Pegasus which marvellously soared overhead as she drank her afternoon expresso. The beautiful sight was stretching 30ft wide created by Damien Hirst, and she had a great pleasure viewing it.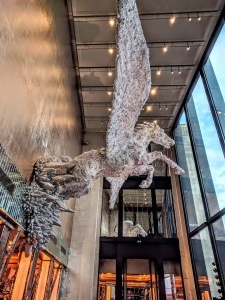 Throughout the trip to London Jodie  noticed the increase in art being used within the hospitality industry and the retail sector, this trend for visual arts throughout society is increasing and showed me that art is truly everywhere we go.
Let me know what you think if the exhibitions Please give us a share.
Written by Connor Malia
http://wp.freedomofcreation.co.uk/mydryice/wp-content/uploads/sites/167/2018/02/Header-Logo.png
0
0
jodiemydryice
http://wp.freedomofcreation.co.uk/mydryice/wp-content/uploads/sites/167/2018/02/Header-Logo.png
jodiemydryice
2019-01-24 17:22:27
2019-07-30 14:36:53
Art throughout London